Córdoba was warm, refreshing, and relaxing, What awaited me was the legendary land of Patagonia. The first order of business was to get to Osorno, Chile, to meet my dad and pick up the motorcycles.
After picking up my old man from the airport, we set out from Osorno the next day on the bikes. My dad taught me to ride dirtbikes when I was a kid, so it seemed fitting when he asked what I thought about him coming down to Patagonia to see me off on this adventure.
We stayed at the Hostal Vermont in Osorno and the staff, Silvia and Stephanie, were so friendly that we were hugging and taking pictures together by the time I left with my dad. Our first pass over the Andes was rainy, cold, and windy. On the Argentine side, we passed through Parque Nacional Nahuel Huapí, winding along the lake in search of somewhere warm and dry to stay. Unfortunately, everyone who had been camping in the park retreated to the hotels in Bariloche, which meant we were SOL by the time we arrived that night. While drying out in a gas station and considering our next step, I asked the cashier if he had any ideas. Fortunately he knew of a guy nearby who owned a building with rooms for rent, and gave him a call for us.
In a few minutes, a skinny old man with curly hair ambled in with a cigarette in his mouth with total disregard that we were at a gas station. As the smoke puffed out of his mouth and in to my face, Mario explained that he didn't have any rooms available for the night but he did have a motorhome in his garage with two beds. Our only other options were to wander around in the storm looking for a hotel, or to camp.
We followed him to the building, passed through a gate and followed him behind his building to a large garage. In the corner, behind all the other guests' cars, was his motorhome. I would guess it was built during the Nixon administration, but it was dry and warm and therefore I wasn't going to question it.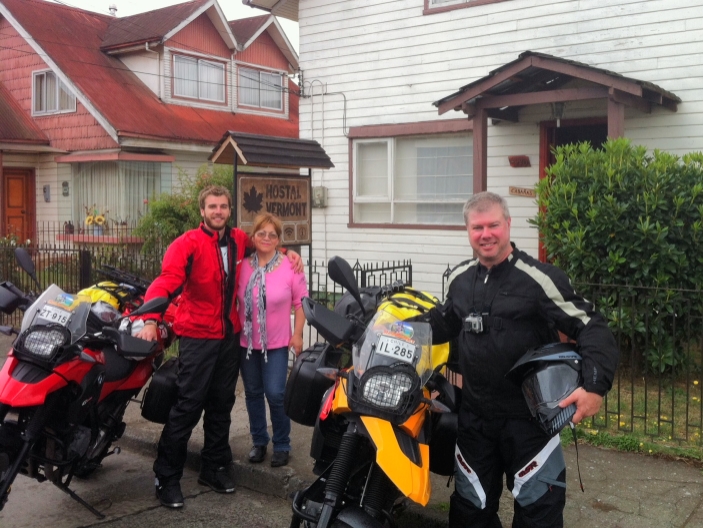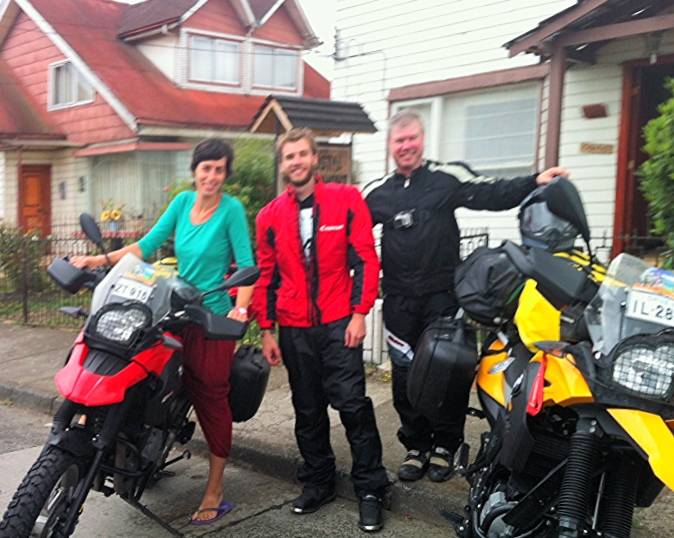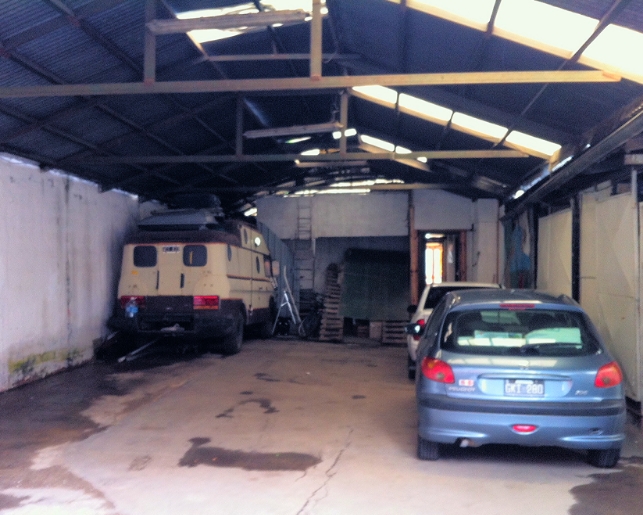 The weather wasn't much better the next day, so we took it easy on our way to El Bolsón, rested up and hoped for better weather.
While taking a break at a gas station outside of El Bolsón, a car pulled up next to us. Upon seeing the driver, an unmistakable sense of familiarity hit me, although I was hesitant to ask his name. After all, I didn't want to be that gringo who thinks all the locals look alike.
Nevertheless, we started talking and sure enough it was Nacho, my old neighbor in Córdoba. A man of many talents, not only does Nacho know how to prepare an amazing Sunday asado, but he also works for the cultural ministry of Córdoba, and his baby is the Córdoba Jazz Festival.
Lesson learned: even on the other side of the world, you are never as far from home as you think.
After two days of riding in the rain, the sun finally came out and gave us fantastic riding weather all the way to Chile.
South of El Bolsón we took a detour off Ruta 40 to swing through Parque Nacional Los Alerces. The park road hugs the hillsides as you pass along lakes Rivadivia, Menendez, and Futalaufquen.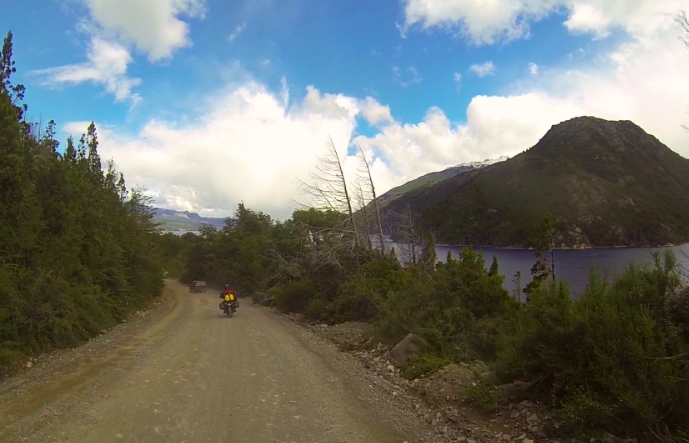 Being from Texas, I thought I was familiar enough with the definition of a "big sky", but Patagonia has proven me wrong. Here, your eyes feast on a buffet of the fattest, fluffiest clouds you've ever seen in your life, served on a big blue platter, the distinct color of which I have never seen emulated in any other part of nature or artifice. All of this is complimented by unimaginably expansive landscapes of valleys followed by hills followed by mountains and more mountains. Being able to see so much of the world from where you stand makes many people feel very small, but in that moment it had the opposite effect on me. I felt like a giant, able see so far and wide as to notice the curvature of the Earth. Enormous mountains on the horizon were now just a few strides away by my count, and the hours I spent wandering the landscape felt like mere minutes in my Ted Simon-esque hubris.
The road exited the park to the south near the small town of Trevelín. The pavement ended abruptly outside of town, giving way to nothing but ranches and the bumpiest, dustiest road I had ever encountered. The bikes took a beating on the road's washboard surface, but I was too fixated on the scenery to worry about it. After crossing the border in to Chile, we sailed on asphalt once again and made Futaleufú by nightfall.