Not many chances to update from the road in the past few days, but lots has happened. I finally convinced myself to leave the zoo in Ecuador head north for Colombia. I had my first drama-free border crossing since Argentina, but my luck didn't hold for long. On the second day in Colombia I tore through the mountains in the south of the country, taking in sublime vistas and grinning through endless curves and twists. About half an hour before arriving in Popayán to spend the night, the bike died on me. Thanks to the time-tested mantra I've adopted from Jay Kannaiyan of jamminglobal.com, I was able to calm down--albeit after creatively stringing together every curse word I could think of--and ask myself "who does the universe want me to meet now?"
As it turned out, the universe had a few folks in mind from the town of Rosas. With naught but human arms and backs, we loaded the bike in the back of a truck and took it to a mechanic in town. In order to unload the black beast we enlisted the help of the group of young men who were passing their friday afternoon in the plaza smoking cigarettes and catcalling female passersby.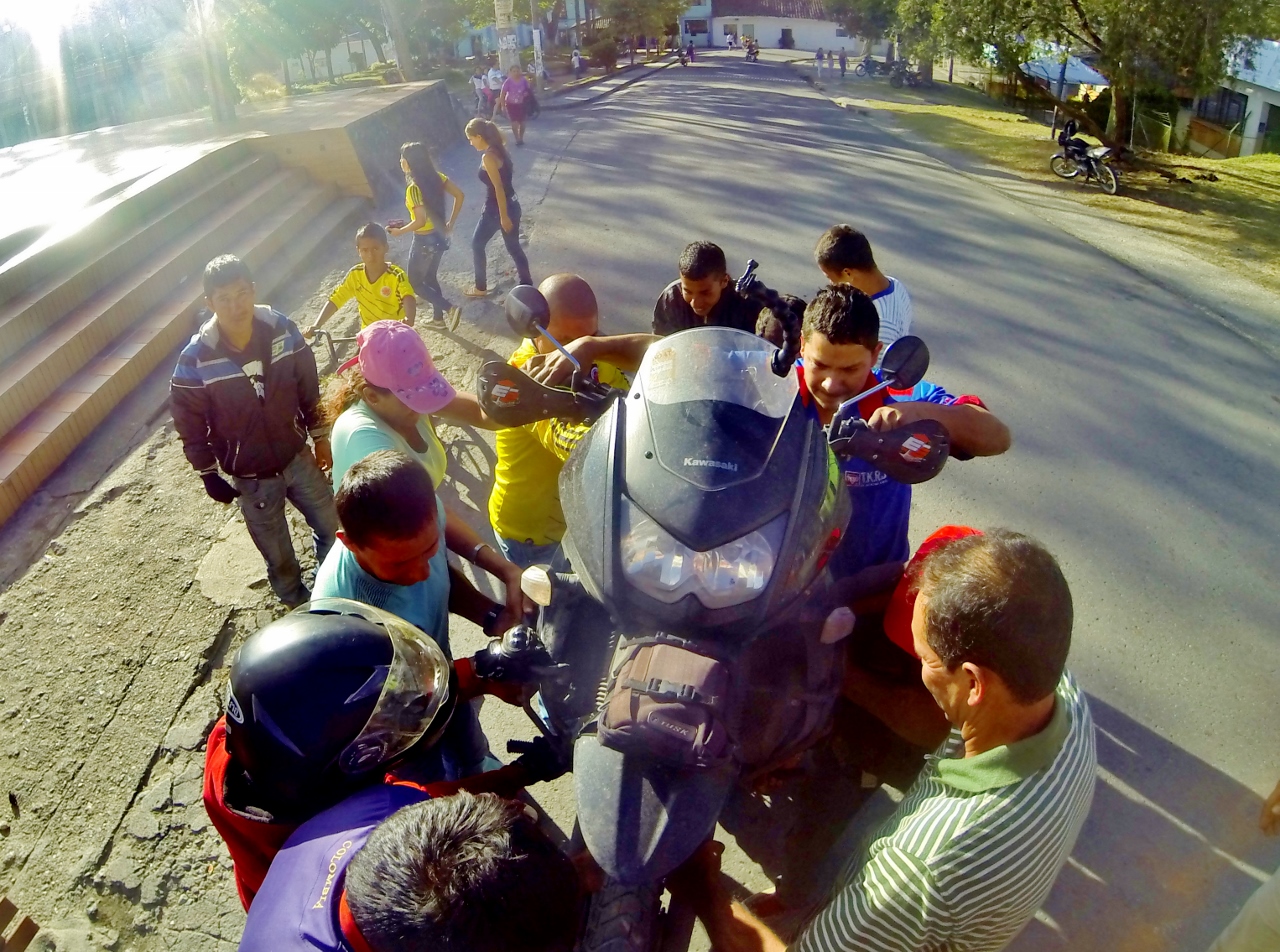 I can diagnose almost any mechanical problem with this bike, but bike electronics are a totally separate field of expertise that I don't possess. Fortunately Carlos, the best mechanic in Rosas--also the only mechanic in Rosas--quickly spotted the bike's ailment: there was almost no acid left in the battery. Ten-thousand miles of bumps and leaning through curves from Punta Arenas to Colombia had spilled nearly all of the acid out of the cells.
Carlos didn't have the correct battery size for my bike, but by the grace of zip-ties I was back on the road the next day anyway. For now I'm taking the day off to enjoy Cali, grab dinner with friends I met on the road back in May, and wait for the bike shops to open tomorrow so I can track down a new battery.
Once the black beauty is back to her old self, we'll trot up to Medellín, the motorcycle capital of Colombia.